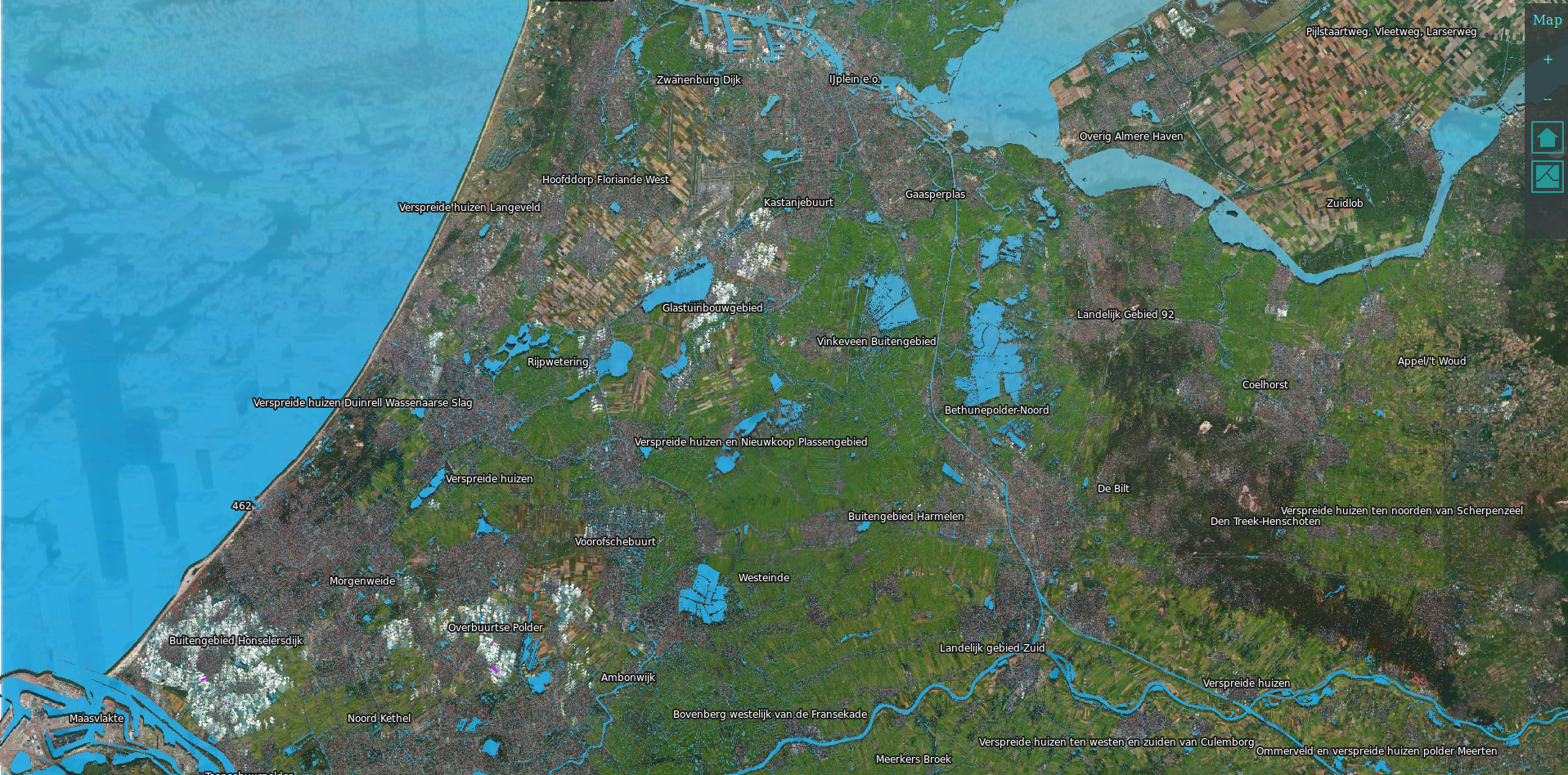 This is the first Tygron R&D blog entry. With this new blog I will try to explain the more technical challenges inside the Tygron Platform's Supercomputer.
Most of the Tygron Simulation models (e.g. flooding, subsidence, heat-stress) work by rasterizing GEO data (polygons of buildings, terrains, areas, etc) into grid cells. These grid cells then be used in the simulation models in a very efficient way and the results can be visualized as an overlay.

Left: Heat Stress calculation Right: 4 billion grid cell water calculation on 60x60km map
For a simulation to become accurate enough you need small grid cells, e.g. when a waterway is 2 meters wide you cannot use a grid-cell that is 10×10 meters, that would effectively average out the waterway. Typically a grid-cell size between 0,5m – 2m is enough for most GEO based simulations.
On the other hand you also want to perform calculations on a large area. For example, a calculation of a flooding running for many kilometers, or heat stress impact calculations for a hot summer day for multiple cities in a single run.
These two requests combined drive the ever growing need for more grid cells in our simulation models. To facilitate future expansions, we have updated our GPU backbone last weekend to tackle some of the challenges when up scaling from 1 billion (1.000.000.000) grids cells in the current LTS release to 4 billion and beyond.
Azul: Using Java as our primary development language has many advantages. However garbage collection (cleaning up old unused data) becomes a big problem when working with large 4 billion cell grids. During rasterization the total memory usage for a single project can become up to ½ TB of RAM and when the default Java garbage collectors kicks in the system could freeze for several minutes! To counter this, the Tygron Platform recycles much of it large matrices/arrays, reusing an old objects prevents them from being collected. However this was still not enough and the solution was found in a California based company called Azul. Using Zing, their specialized, high performance virtual machine, reduces the garbage collection freezes to bare milliseconds.
So far we have only scratched the surface and each challenge above has many more things that can be explained. When you are interested in more details, please let me know (email: maxim at tygron dot com), as it may become the next blog entry.
Regards,
Maxim Knepfle
CTO Tygron