The Tygron Platform is an Open Web Platform consisting of multiple applications:
Tygron Engine is the central cloud hosted by Tygron in the Netherlands. It contains a Supercomputer with state-of-the art parallel processing capabilities based on GPU technology. It simulates the current situation in your area of interest, as well as into the impact of future scenarios.
Tygron Client is our own 3D visualization app that can be used to analyze the calculated results or configure your project. It is combined with the GeoShare app that can be used to easily share Spatial data withing your Organization or the Community.
Since the Tygron Engine supports open web formats, has a documented API and Python SDK it can connect with other apps and services. For example Web Viewers, QGIS, ArcGIS Online, Dashboards, FME, Unity and many more.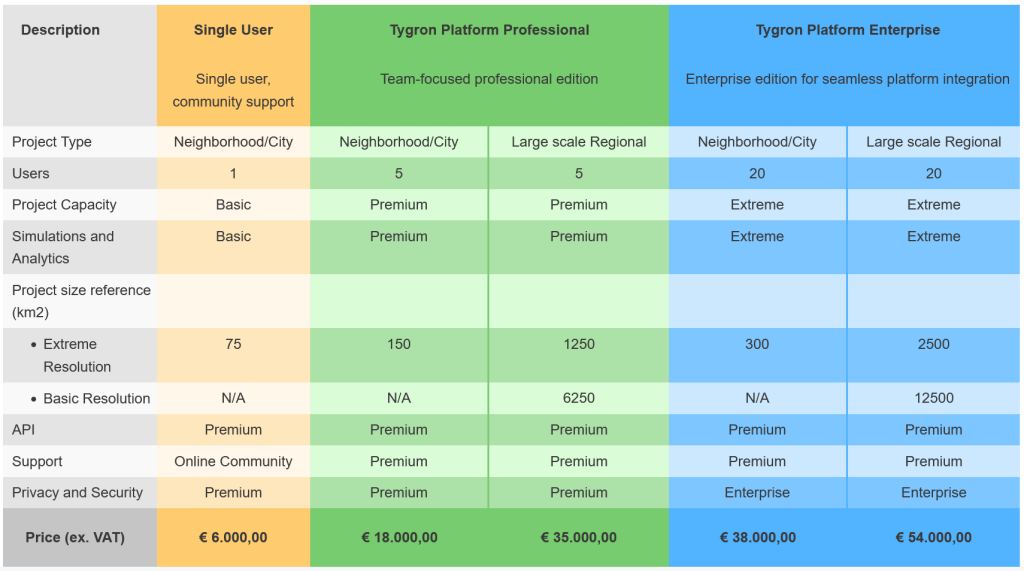 * The license table is provided for informational purposes only, and no rights can be derived from its content
** v0.01. These prices are valid as of December 1, 2023
Tygron users with a license dated before December 2023 can contact us with questions about their current licensing structure via the contact button.
Tailored Licensing Solutions: Elevate Your Tygron Experience
Empowering organizations working on the digital transformation, our standard license options provide a robust foundation for integrating the Tygron Platform seamlessly into your projects, organizational structure, and digitization strategy.
For those with unique demands, we proudly announce our configuration services, tailoring licenses to match your specific project types and digitalization needs. Interested in exploring our flexible pricing options, designed to meet your exact requirements for performance, security, and value.
Are you interested in our licenses? Please contact us:
Our Trial license gives 10 day access to a selection of demo projects. It gives insight in some of our major features and application areas. Please apply for a free trial through our contact form
Educational organizations all over the world use Tygron in their curricula and to help students get ready for practice. We support the implementation of the Tygron Platform at educational institutes by providing a free of charge EDU license, as well as an EDU Pro license for a reduced price. More information
What our customers have to say

"The Tygron Platform enables us to automate the quantitative aspects of area assessment and allows us to focus on the process and the qualitative aspects"
Maarten Alberse
NLGreenlabel

"Due to the web-based nature of the Tygron platform and it's well-structured API I can really integrate the Tygron platform in the ecosystem of tools we have without losing data or information. This allows me to flexibly switch and use the best tool for the question at hand"
Len Geisler
Tauw

"The Tygron Platform allows me to work integrally on spatial planning in combination with related themes such as land exploitation, environmental impacts and climate adaptation."
Sander Geertzen
Sweco