TRAINING
The Tygron Platform offers professional software. For an optimal use of the different functionalities, we advise you to follow one or more Tygron training sessions. We offer several possibilities: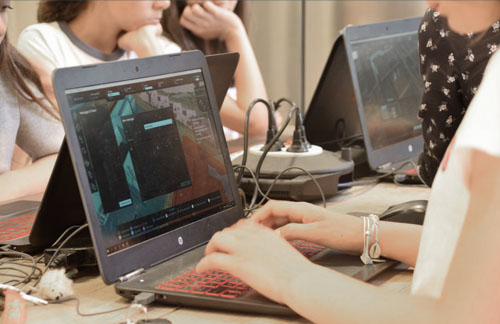 The Tygron Academy offers a structured training package especially for hydrologists , with helps you to get started quickly and practically with the Water module of the Tygron Platform. The Tygron Academy is realised in cooperation with Aveco de Bondt.
The Tygron Academy, like the Tygron Platform itself, is designed for and by users. Many hydrologists from water organisations, consultants and educational institutions have already made use of this. In all our training session we work with small groups, with much personal guidance. During the training courses, a number of tutorials are worked on and ample attention is paid to the translation into your own case studies.
For users that want to get started with the Tygron Platform, we offer a Quickstart training. After this one day training session, you are familiar with the basics of the Tygron Platform, and you have a project available in your Tygron domain that you can continue working on independently.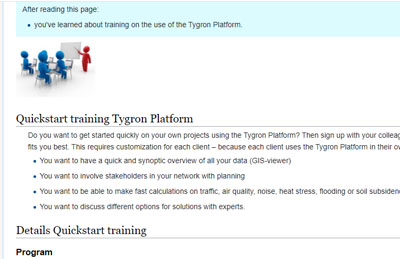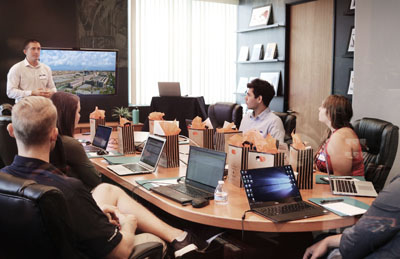 For more advanced Tygron users, we offer customized training sessions, designed specifically towards your own goals. Topics can be, among others:
Working with our different modelus, such as the Water Module, heat stress analysis of parametric design. 
Advanced analysis using TQL, Excel and/or the Combo Overlay.
Working with the API.
Do you have a specific use case you want to use the Tygron Platform for? We can offer custom support combined with workshops, in which we help you build your project. We also train you in using and maintaining it.  After this trajectory, you have a project available in your Tygron domain that you can apply directly.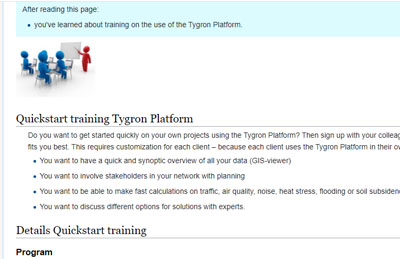 Interested in one of our Training options?
Contact info@tygron.com, or use the contact form on this site and the Tygron support team will contact you.