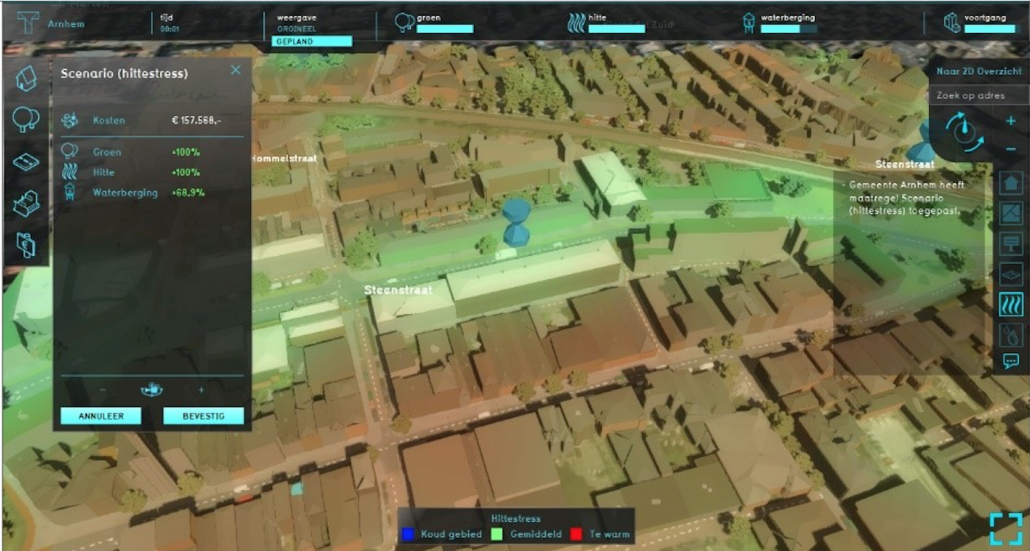 For this thesis two students have been investigating the added value of 3D information within provincial issues. One of the executed projects was about climate adaptation, in which the Tygron Engine was used.
By: Stan Keukens & Tycho Levels
Education: Geo Media & Design at the HAS University of Applied Sciences in 's-Hertogenbosch.
Comissioned by: Province of Gelderland
Problem statement
Van Muijlwijkstraat is a street located between the centre of Arnhem and Velperpoort station. This street will be redeveloped by the municipality of Arnhem, because it consists mainly of stone. As a result, there are currently a number of problems such as regular flooding from Velperpoort and high heat stress (mainly on the centre side). To solve this problem, the pavement can be made narrower and an unnecessary bus lane can be removed, creating more space for greenery and water.
The municipality of Arnhem would like to have overview of possible measures based on heat stress and water storage. They would also like to know the effectiveness of these measures. That way they can communicate with the citizens, which measures can best be applied in the street to reduce the problems. The province of Gelderland recognizes the climate adaptation measures as increasingly important and would like to ensure that municipalities apply them within their projects and plans. For the municipality, the question is whether Tygron can play a supporting role in this. The added value of Tygron for the municipality of Arnhem in the redevelopment of the van Muijlwijkstraat can thus also be determined for the province of Gelderland.
Climate adaptation
With the help of the Tygron Platform, first targets were set in the areas of greenery, heat stress and water storage. After that, all measures and effects that could possibly be applied in the van Muijlwijkstraat were added. Finally, these measures were added to the street to determine the effect on the surroundings.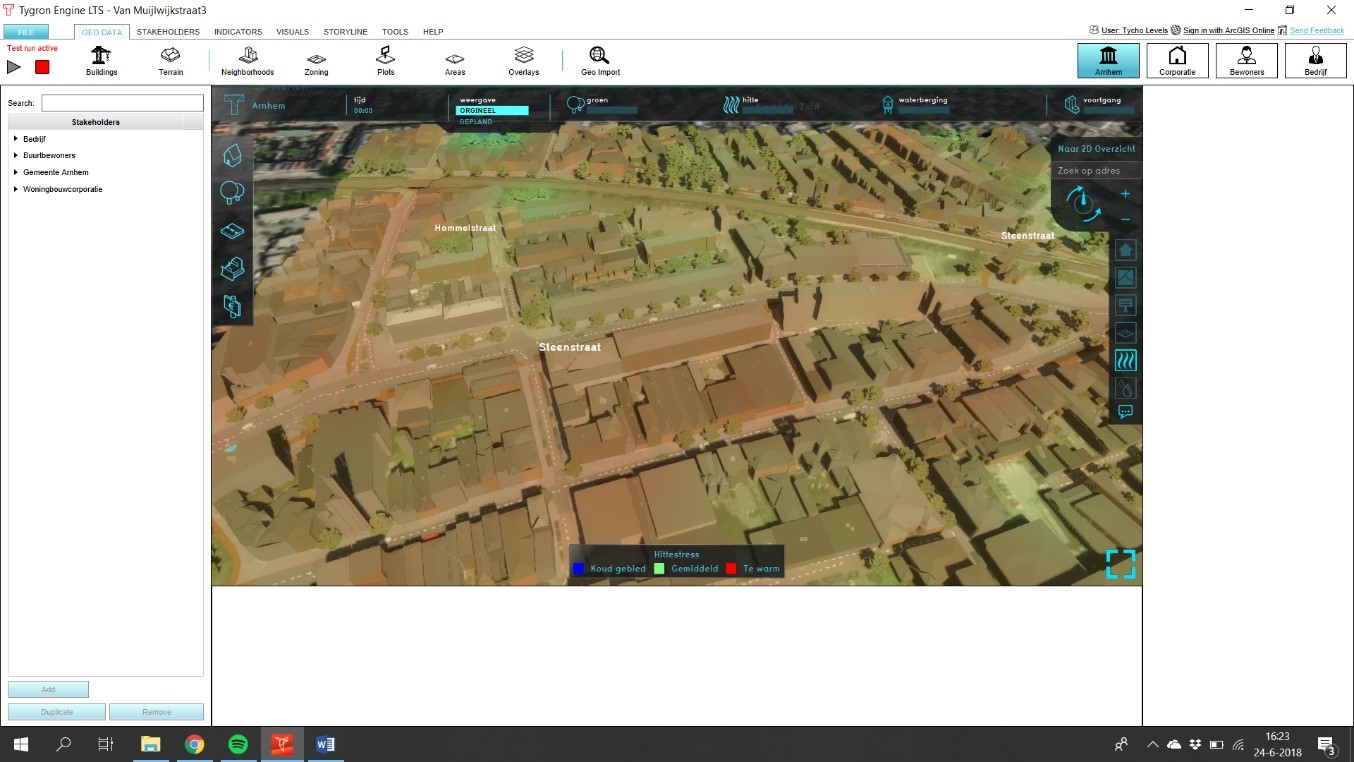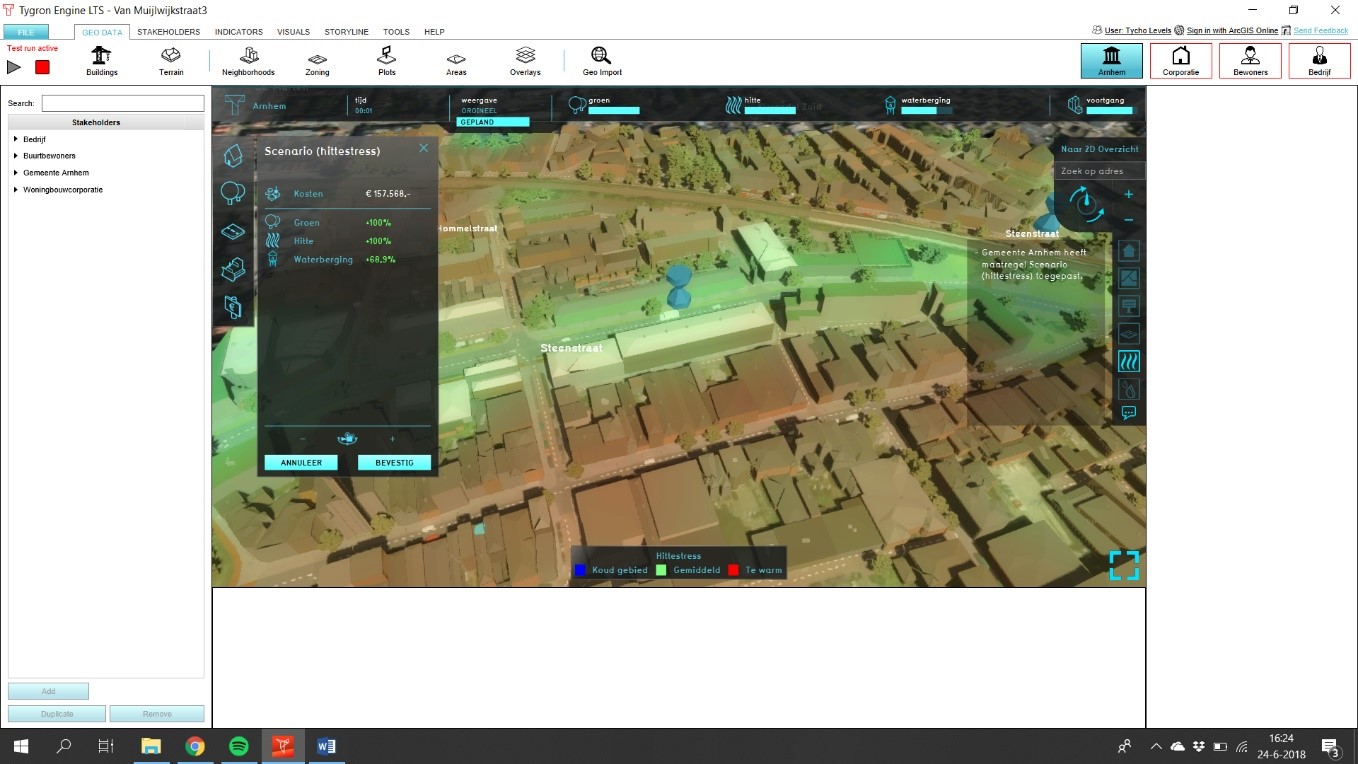 Conclusion
Ultimately, the research shows that the Tygron Platform can best be used in the orientation phase to inform citizens. The software provides an overall picture of the issues in the project area, the effects of certain measures and the objectives. In addition, adaptations can be passed on very quickly, which makes it possible to work interactively with the software. With the help of this software, citizens get a better picture of the importance of the redesign, which will
result in more input for possible solutions. In the end, more well-considered decisions can be made.
The municipality of Arnhem is enthusiastic about the possibilities of the software and would like to discuss the use of the software with the province of Gelderland. For the province of Gelderland this means that the Tygron Engine is indeed a useful tool to stimulate climate adaptation solutions in municipalities.