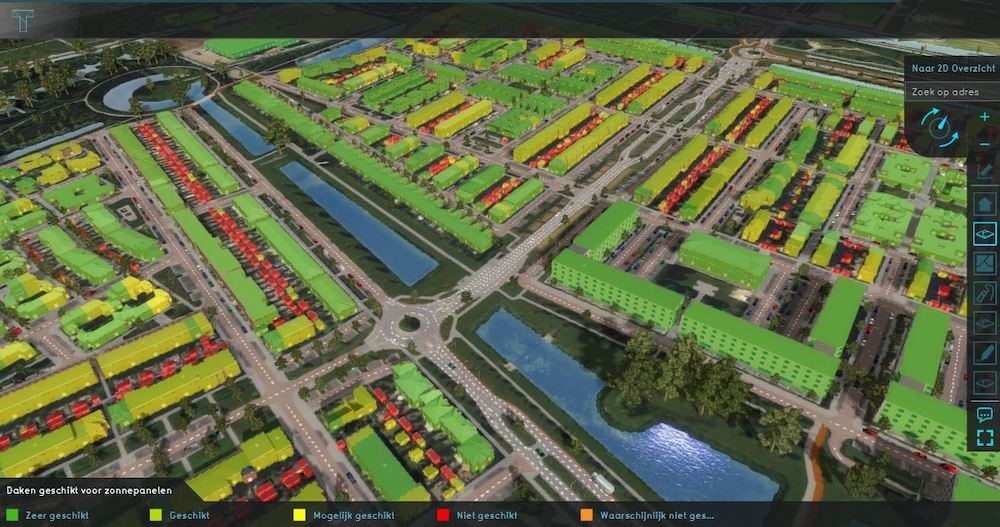 The Province of Utrecht will introduce the so-called energy dashboard on 1 June 2020. With this, the province wants to make the energy transition simpler and more transparent for all stakeholders in the region.
Therefore, on behalf of the Energy Team and GIS team of the Province of Utrecht, Tygron has developed the Tygron Energy Dashboard. This tool consists of a 3D representation of the environment (Tygron Platform) and an associated 2D online dashboard, which can be opened on a tablet, for example.
Visualizing tasks
With the Tygron Energy Dashboard the task and tensions in a specific region in relation to the total regional energy task can be clearly visualised. This is because various alternatives can be calculated quickly, and the results are then visible in the dashboard. In addition, the tool can be adapted with custom measures. The 3D view makes the plans comprehensible and insightful and is suitable for participation. This makes it possible to have a conversation with stakeholders and thus to support decision-making.
Ateliers
Within the Regional Energy Strategies in the Netherlands, regional, local and thematic ateliers provide input. This participatory process is an important part of the Regional Energy Strategy process in the Netherlands. The ateliers focus, among other things, on the content. Participants in these workshops can be, for example, governments, experts, residents, companies, energy companies, agricultural organisations, water boards and grid operators. Each region selects its own parties. The first assignment for the ateliers is to provide input for a concept RES in which especially the potential generation of a region is presented. After 1 June 2020 the ateliers will set to work to explore realistic locations.
Collaboration
Hans van den Bosch, coordinating GIS specialist at the Province of Utrecht, is satisfied with the cooperation: "The Tygron Platform is an excellent instrument for exchanging opinions on the impact of sustainable energy generation in the environment. It is a flexible tool where different scenarios can be presented. This provides valuable data and thus makes a good contribution to choices that have to be made in the spatial environment. Particularly in the phase after 1 June 2020, the energy dashboard in the Tygron Platform will make a valuable contribution to supporting the participation process".
The Tygron Platform is also used for other themes, such as air quality, noise pollution and flooding.
If you would like more information about the energy dashboard in the Tygron Platform, please send an e-mail to info@tygron.com or gis@provincie-utrecht.nl.